About the Project
This series of entrepreneurial mindset case studies were developed by Ken Bloemer, Ph.D., Director Visioneering Center, PI, University of Dayton, Jonathan Weaver, Ph.D., Professor Mechanical Engineering, University of Detroit Mercy, Kenya Crosson, Ph.D., Associate Dean Faculty and Staff Development, University of Dayton, Andrea Peterson, KEEN Program Coordinator, University of Dayton, and various faculty from the University of Dayton and KEEN Partner Universities.
What is the purpose of the Entrepreneurially Minded (EM) Engineering Case Studies?
---
We have developed and are developing a number of EM engineering case studies designed to be integrated into existing engineering courses.
These case studies are intended to illustrate ways that entrepreneurially minded engineers (EMEs) have capitalized on their knowledge of specific engineering topics covered in typical undergraduate courses.
Often when we think of engineering case studies, we think of catastrophic failures like the Space Shuttles Columbia and Challenger, the Tacoma Narrows Bridge, and the Titanic. While there are certainly lessons to be learned from these, successful engineering ventures beginning with the identification of an unmet need to the delivery of a value-added solution offer an abundance of entrepreneurially minded learning (EML) opportunities.
Who from the Network would benefit from the case studies?
---
The intended audience is primarily engineering faculty and students, but also business faculty and students, entrepreneurially minded student clubs, etc.
Why did you decide to work on this project? Was there a missing need this fills for your campus, faculty, and or students?
---
As a student I always appreciated learning from teachers' stories, be they from their own experience or from the telling of others' experiences. Stories are authentic experiences that help connect the theory to practice and helped me understand the relevance of what I was learning.
The EM Case Studies are stories on steroids. They are mostly told directly from the entrepreneurially minded engineer's (EME's) and/or inventor-innovator's perspectives.
As such, they are stories of passion and persistence, setbacks and spectacular value-adding successes. They are stories that help all involved develop an entrepreneurial mindset and the opportunity to impact skillsets.
We also wanted to provide significant development opportunities for our faculty that would consist of working intentionally with a select company to identify EM Case Study opportunities (that we would help develop) and identify other relevant examples of engineering in action for their courses. Unfortunately, this proved too lofty of an objective because of faculty time constraints, company intellectual property concerns, and a lack of consistency in the resulting case studies.
We then developed a smaller case study team that is focused on developing top tier EM Case Studies with topics and EMEs that we hope will appeal to faculty and students alike.
What are your goals and visions for this project?
---
Our vision for this project is twofold.
First, it is to directly support our shared mission of graduating engineers with an entrepreneurial mindset so they can create personal, economic and societal value through a lifetime of meaningful work.
Second, but still highly correlated to the first, is to help make EML simply a part of mainstream engineering education by including teaching with case studies.
Other disciplines, most notably business and law, have been successfully teaching with cases for a long time. The idea of case studies in engineering is not new, but it certainly has not yet become mainstream. We hope that when you, dear reader, check out a case or two, you too will see the EML potential within.
How will this project help you, your campus, faculty, or students?
---
Let me provide a couple of specific examples of how these cases will impact students and faculty.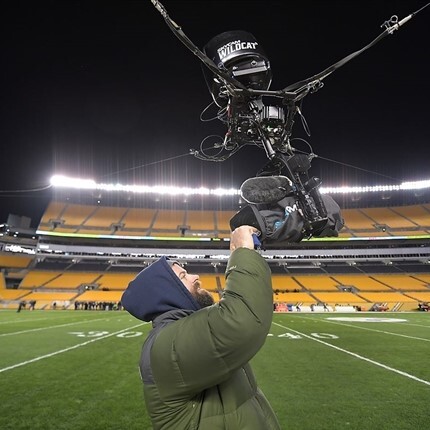 One of the cases is about the invention of Skycam, the camera that "flies" over sports stadiums and other large venues and has totally revolutionized the cinematography of football, soccer, and concerts.
When students are working on project-based learning assignments, they routinely do quick designs and want to get right into ordering parts and fabricating their prototype. Students and faculty alike often don't understand the value in developing low/no cost crude prototypes first.
In the case of Skycam, inventor Garrett Brown conceives of the idea, invites three friends over, and prototypes and tests the concept in his kitchen. He positioned each person and himself in a corner of his kitchen, gave each a spool of thread with a simple winding handle, and tied a key to the ends of the four thread spools and hung it in the middle.
They then experimented letting out and winding in the thread to move the key up and down, and all across a rectangular box of space in his kitchen.
Through this exercise, he validated that his concept could work, and they learned critical items about control of the highly complex Skycam system, the spooling mechanisms, and key safety criteria - and all for less than $2!
Another case features Mike Nuttall, one of the three co-founders of world-renowned design firm IDEO, as he discusses the Design Thinking product development approach. Here students learn the critical importance of the Empathize step, that includes competitive product research, gaining a deep understanding of customer needs, wants and desires, other research, and in the case of students, getting out of the classroom, and experiencing the problem/opportunity, extreme users, workarounds, and more.
We have yet another case, Glyde, that does an excellent job at this step where the engineers ride along with the beer delivery guys for hundreds of hours before they initiate the actual prototyping of the hand truck.
Interested? Have questions? Contact Ken Bloemer.