Basic Information
Title, Summary, Description, Featured Image, Engineering Disciplines, Card Category, Tags & Keywords
---
Card Title
Your title is one of the first opportunities to draw people into your card.

Be descriptive, yet accurate.
Avoid using internal course names/designations.

"CBE 255" may make sense for your curriculum, but your audience won't immediately associate with it.
---
Summary
Think of how Google returns search results with a brief line of description. Use this field to write an equally brief, catchy summary of your content.

---
Description
Add different headings, bulleted or numbered lists, links, and other design elements! This expandable box comes with a Rich Text Editor to make your content visually appealing and scannable.
Have a lot to include? Don't forget to insert paragraph breaks.

Tip: For best results, either type in the Description box from scratch, or paste information only from a text editor like Notepad. This will eliminate errant formatting that will show adversely when you (and others) view your card.
---
Featured Image
Engineering Unleashed provides a selection of stock photos. However, the best image you can use is one that is directly tied to your content. If you can use an actual image from your class or project, even better.
Tip: Rectangular photos that are wider than they are tall will work best.

The Journey to the Top: Board Game to Instill Entrepreneurial Mindset
---
Engineering Disciplines
Choosing the best disciplines for your card can help people find it in search.
Select up to 3 disciplines that best align with your content.
Or pick one of the 1-click options:

Does your card cover all the disciplines, including non-engineering? Choose "Comprehensive."
Does your card cover all engineering disciplines - and only engineering disciplines? Choose "All Engineering Disciplines."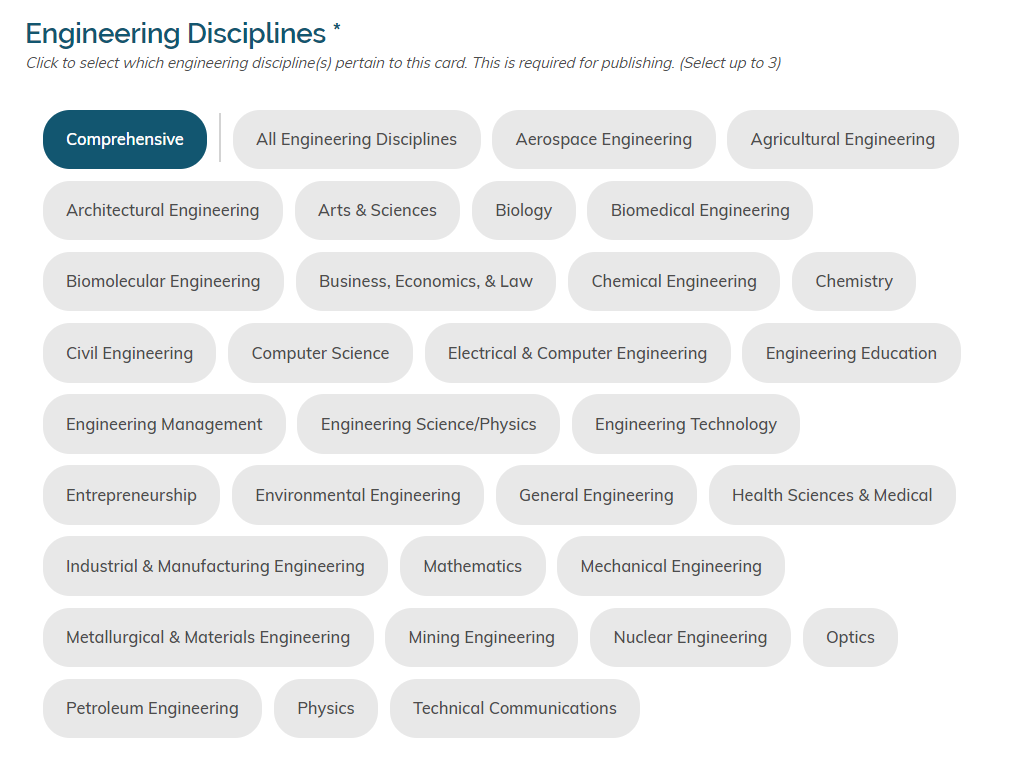 ---
Card Category
Choosing up to two categories for your card helps frame it for others as they search.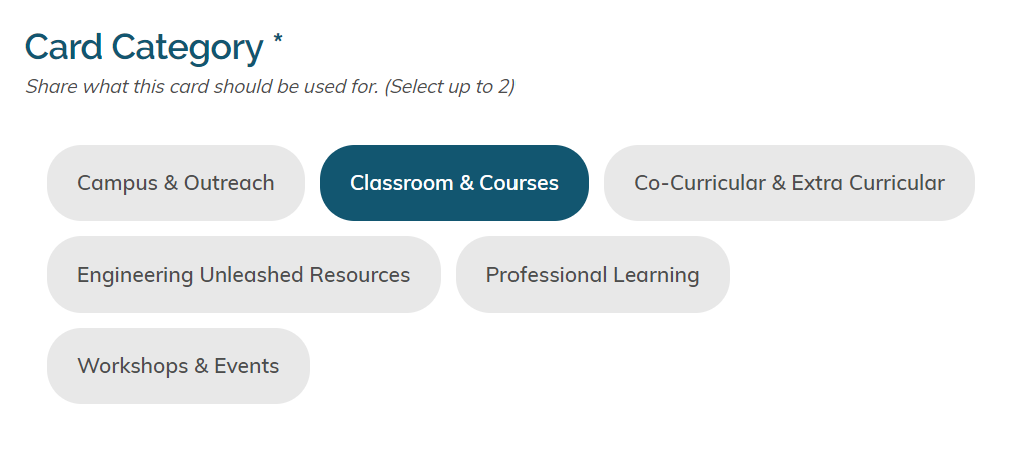 What context does your card fit into most?

Campus & Outreach. Your card contains resources to communicate about entrepreneurial mindset (EM) to faculty on campus, such as book studies and faculty guides.
This category also includes cards related to implementation strategies that a campus has used. These can have an external focus and communicate EM to the community, K12, or even industry audiences.

Classroom & Courses. Your card shares resources, activities, and examples of EM within the classroom context.
These can include teaching resources, individual activities, entire courses, or approaches to bringing EM to students within a classroom setting.

Co-Curricular & Extra Curricular. Your card can be shorter activities that could work in a club setting, but might also include write-ups of student organizations that focus on EM or hackathon/design sprints, or even EM speaker series.
Engineering Unleashed Resources. These cards are general resources that connect to the community and mission.
Examples include branding guides, card templates, and how-to guides for Engineering Unleashed.
Professional Learning. Do you have tips, techniques, or examples of how faculty can grow professionally with EM? Cards in this category are focused on sharing faculty development approaches, professional development resources, or other items connected to faculty professional growth and development.
Workshops & Events. Cards in this category are connected to events like the KEEN National Conference as well as techniques for how to showcase EM with a workshop or at an event.
---
Tags and Keywords
Tags supplement your card's other fields, plus can help people find your card in search.
Enter words and phrases that describe your content and approach, such as:
active learning

student engagement
statics
icebreakers

Tags have 'type-ahead." If the tag you're entering already exists in the system, it will appear for you to select.
Tags are case-sensitive. For example, if "Getting Started" as typed already exists in the system, typing "getting started" in your card's Tag box will update to "Getting Started."
You can delete your tags. Changed your mind about a tag, or misspelled one and need to enter it again? Simply click the X next to the existing tag on your card.
Tags and Disciplines work together. When you choose your Disciplines, you don't need to include the same keywords in your Tags. This is because both Disciplines and Tags are searchable items.
For example, if you selected "Engineering Education" as a Discipline, instead of also adding "engineering education" as a Tag, use the Tag field to add other aspects of your card instead.